How to organize and manage the lifecycle of identities and accesses?
The maturity of business processes and technological innovations in organizations do not always occur in synchrony with the internal policies and practices of auditing, security, identities, risk management and compliance.
Defining, implementing and maintaining the management of the identity and access cycle ensures operational peace of mind, compliance with security requirements and compliance with auditing.
IMPROVE USER EXPERIENCE
… through an interface that provides better navigation in self-services, benefiting end users, approvers, system administrators and developers.
REDUCE OPERATING COSTS
… simplifying the daily tasks of operation enabling the increase in the maturity of the IdM process without significantly increasing new headcounts.
MODERNIZING IT INFRASTRUCTURE
… establishing an integrated process and providing a unified repository of information and logs for audits, increasing the speed and resiliency of the IT area.
REDUCE RISKS
… systemically releasing mechanisms for requesting access to systems considered critical to the organization, with an automatic approval and provisioning flow at the end of the process.
Identity & Access Management (IAM)
The term Identity and Access Management (IAM) in IT (coming from the union of the Identity Management (IdM) and Access Management (AC) processes defines the mechanisms and processes for managing the roles and access privileges of users linked to identities.
The purpose of IAM solutions is to establish a digital identity and provide mechanisms for it to be maintained, modified and monitored throughout the access lifecycle of every user or device and IT asset.
Simplifying user access to multiple systems and devices in the organization ensures security and reduced operating costs.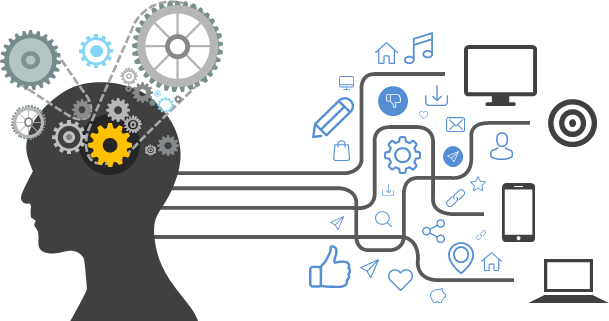 EXAMPLE OF GOOD PRACTICES TO ORGANIZE AND MANAGE THE LIFE CYCLE OF IDENTITIES IN COMPANIES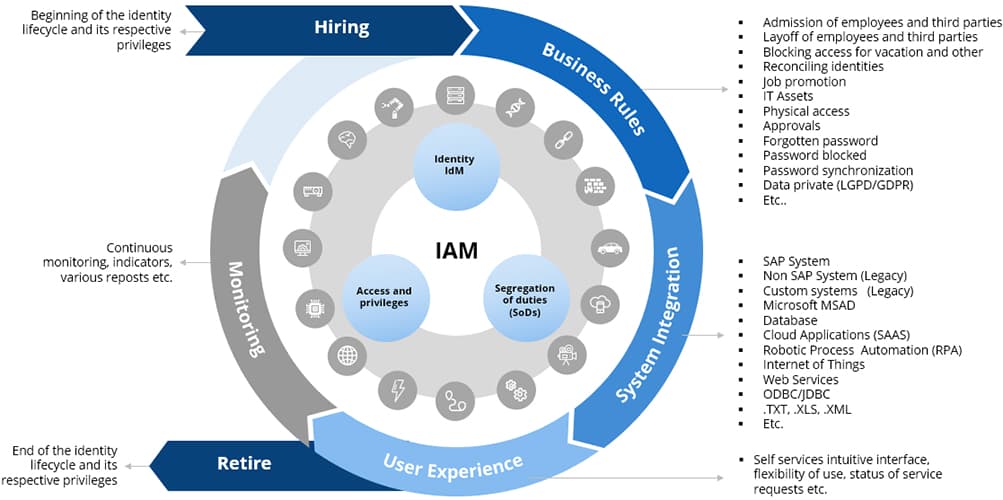 MOTIVATORS TO ESTABLISH A SYSTEMIC IAM PROCESS – IDENTITY & ACCESS MANAGEMENT
REDUCTION OF OPERATING COSTS
Multiple data sources including cloud solutions;
Manual routines for creating, maintaining and disconnecting identities and access;
High volume of daily tasks due to the number of systems;
Compliance with SLAs;
Fragmentation of audit data due to lack of unified / integrated IAM solution;
Etc.
BUSINESS PROCESSES IN CONSTANT EVOLUTION
Acquisition of new systems including cloud systems;
Improvements to current ERP systems;
Organizational restructuring;
Inclusion of partners in the organization's processes and routines;
New requirements / mass processing of user attributes;
Different platforms and architectures for Identity and Access;
Etc.
ATTENDANCE WITH SAFETY, AUDITING AND GRC PRACTICES
Traceability of identity attributes;
Shutdown of IT resources immediately (identity, access, IT assets, etc.);
SoD risk analysis for critical systems of the organization;
Approval/assurance flow that identities and accesses have been granted and removed;
Centralized management;
Etc.
THE USER'S EXPERIENCE IN THE IDENTITY AND ACCESS REQUEST AND APPROVAL PROCESS MAKES ALL THE DIFFERENCE WHEN SEEKING THE BEST ENGAGEMENT OF ALL
SAP made available SAPUI5 (SAP User Interface 5) to develop web applications. In summary SAPUI5 is a framework for building responsive web apps (applications that tend to adapt their user interface to desktops, tablets and mobile phones). With the use of interfaces developed in SAPUI5 for SAP Identity Management, the Identity and Access Management processes increase their acceptance by employees due to an appealing and customized design tailored to each task.
Examples of SAPUI5 Interfaces for SAP Netweaver Identity Management

End User | Managers | Administrators | Reports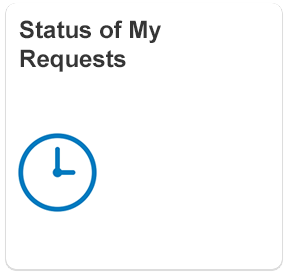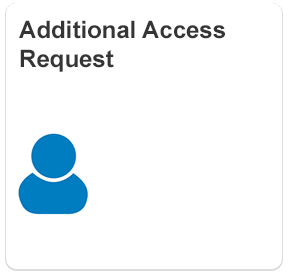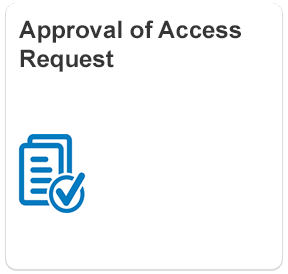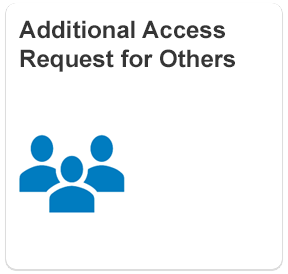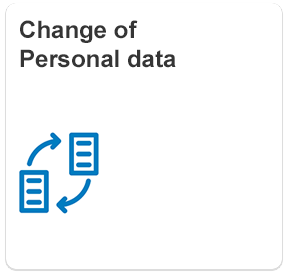 How we help our customers
Process and platform domain
Faced with constant innovations in practices and systemic solutions, you don't have to worry. We are specialized and prepared to recommend the best processes and platform to address your requirements and challenges
Implementation of the right measure
All processes are modeled observing GRC requirements and safety practices, internal policies, regulations etc. We carry out the configurations of the adopted solution  seeking to improve the user experience  and reduce the operational cost of the process.
Support and Sustention
We offer specialized AMS support services for operating and sustaining the established process. We have a team trained in the process and solution, and differentiated methods and practices for service and continuous compliance assurance. COMPLIANCE OPERATOR support. A TrustSis exclusive!
Let's make your project happen?